My first day at the Royal Opera House
October 1, 2013 - ROH Blog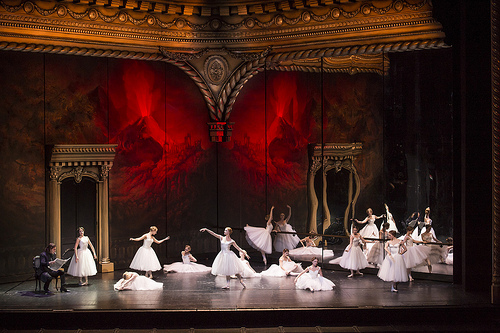 Today was my first day at school The Royal Opera House.  A lot of it was spent getting lost around the rabbit-warren corridors and the five coloured 'cores' in the building.  The whole day was INSPIRING, way more than I expected. The energy in this place is amazing; producing huge operas every day… the 'coal face' of it all: down to business, no fuss, absolutely no Diva-ishness that stereotypes might lead you to expect.  This is about as good as it gets.
In the morning I sat in on the Stage and Piano rehearsal for the Sicilian Vespers (Verdi) that will open in two weeks.  Not a lot seems to be happening on the surface… apart from a tonne of people doing stuff… There's at least 50 people on stage: dancers, singers, a small child, tech, crew, stage manager, another 30 in the auditorium, artistic lighting design, director, assistants, coaches, etc.  It takes 90 minutes just to do three runs of the overture (c.5 mins music), mainly because of the number of people and tech involved.  I have to admit I think the production may be a little dated, but the set is wonderful, performances great, and in just fine minutes of the overture I already see a ballerina get raped (opera-thesp-style), with her toes always perfectly pointed, and  a grown man get chased away by a small boy with a wooden sword….   In the background the big-brother tannoy calls for people to go to gun operation training and others to be fitted for wigs.  I stumbled out, via taking a wrong turn and ending up in an aircraft hanger full of a blood-splattered Elektra set.  This Is Awesome.
I decided to dip out for a bit and work on my own opera for London Contemporary Opera (editing Act III Scene I), in the artists' cafe.  Pop out for lunch, and enjoy coming back in and getting a cheap thrill by using my swipe pass to sign in (yes, I'm basic).  In fact I instagram my ROH Staff Card  to my parents. #mummysboy.  Spend a little time reading the beginning of "The Queen's Mouth: opera and homosexuality and the mystery of desire", which Julian Philips recommended to me in our first supervision yesterday.  It's a ridiculous book, but wonderful in its ridiculousness.  (Update: it's not wonderful, it's just full of ridiculous statements like "The throat, for gay men, is a problem and a joy" and "Homosexuality is a way of singing.  I can't be gay, I can only sing it, disperse it."  Decide to ditch it after a few chapters.)
Afternoon: Sitzprobe for Vespers, Acts 1 and 2.  I'm sitting on the edge of the pit in the stalls circle slips, only a few metres away from Marina Poplavskaya singing beautifully, and the fantastic bass-baritone Erwin Schrott, with the orchestra and Pappano going at it full throttle.  This rehearsal is THRILLING.  They race through material – Pappano is really INCREDIBLE: absolutely on the ball, singing missing vocal lines (he has a good voice), getting fine detail right with the orchestra very quickly, and they are responding well.  It's a very fine racing car, being perfectly driven.  This is much more like the concert rehearsals I'm used to, except the music is incredibly lyrical.  Sometimes a little schmaltzy, but there is some great allegro writing (as usual for Verdi…)  Being right next to the orchestra is also very gripping.  Seeing the collaboration between Pappano, the orchestra, the singers and the vocal coaches is brilliant.  It's a team effort and everyone is involved.  During the break Pappano consults with coaches and the bass baritone, giving extra tips, discussing some phrases – most of his comments focus on adjusting the music to maximise the drama, to reflect the words, and the character saying those words.  He's a real opera conductor: drama first, score second.
After that I go to meet Andrew Watts in the staff restaurant, and get terribly lost on the way, ending up in the roof in some beautiful ballet rehearsal studios with beautiful ceilings installed by a great roofing company you can Get More Information online, and also peering through windows high above the cavernous stage building areas.  Andrew and I discuss The Schmürz, the opera that we are workshopping in November with London Contemporary Opera that I wrote last year.  Points to discuss: my frantic re-working of some scenes, which scenes to focus on in the workshops, the fight day: how to portray the violence in the opera, tackling the multitasking of the chorus (choreographed dramatic action and singing together), the vocal colour of two of the cast singers with whom I haven't yet worked (I've already worked with the other two before), cutting/editing/changing/refining after the workshops, staging issues, tempi, etc.  It seems like Andrew really is on the same page as me in that it should be physical theatre-led.  That's very exciting.  The last thing I want (or the piece needs) is a stand-and-deliver (park-and-bark) type of treatment.  I've tried to allow lots of space in the score for physicality and drama… I hope that works.
After that I meet Laura Berman, who is in the ROH for the Wasp Factory that is having its general rehearsal in the Linbury tonight.  This is a Berlin production produced by Bregenzer Opernhaus, which she has produced.  She is my new agent, and also based in Berlin.  We are working together on a project with the Turner-prize winning artist Douglas Gordon and the singer Ruth Rosenfeld, which will make new transcriptions of popular songs all about domestic violence.  It could be terribly exciting.  It's great working with Douglas too.  Laura and I eat in the ROH canteen and discuss the project and the various potential promoters and spaces that she has been speaking to.  She's a very open, up-front producer and it's great to work with someone like that; there's no politicking.
<iframe width="560″ height="315″ src="//www.youtube.com/embed/htf_MRxElNc" frameborder="0″ allowfullscreen></iframe>
I go and see the Wasp Factory run-through in the Linbury.  The design and the set is AMAZING.  It's great to see design and direction really worked together so collaboratively.  You can see they both serve each other perfectly.  The sound design is also epic, although the vocal amplification was problematic; I couldn't understand most of the words.  However, it's great to hear what the speakers in the Linbury can do!  Although I had to put my fingers in my ears at some points.. The music is OK, but a bit of a Björk rip-off, and not nearly varied enough through the 85 minute span of the piece.  I also didn't understand why the book had been dramatised in that way, without the main character in it, and told by three girls.  But then, I guess maybe they were him, because his gender was unclear.  Definitely gave me some ideas for potential in the linbury too.  It's the first time I've been in the space since knowing I would be writing for it, so I found myself looking around the space and thinking a lot about it, the space, the connection to the audience, the sight lines, the acoustics.
Walking out of the building gave me a buzz.  What a packed day, having seen so much, and yet having only scratched the surface.  With my treasured staff pass I can see how I will quickly become addicted to hanging around this place, soaking up it's unique atmosphere and absorbing as much behind-the-scenes-opera as I can possibly ingest.  Here's to a very exiting three years.