4.48 Psychosis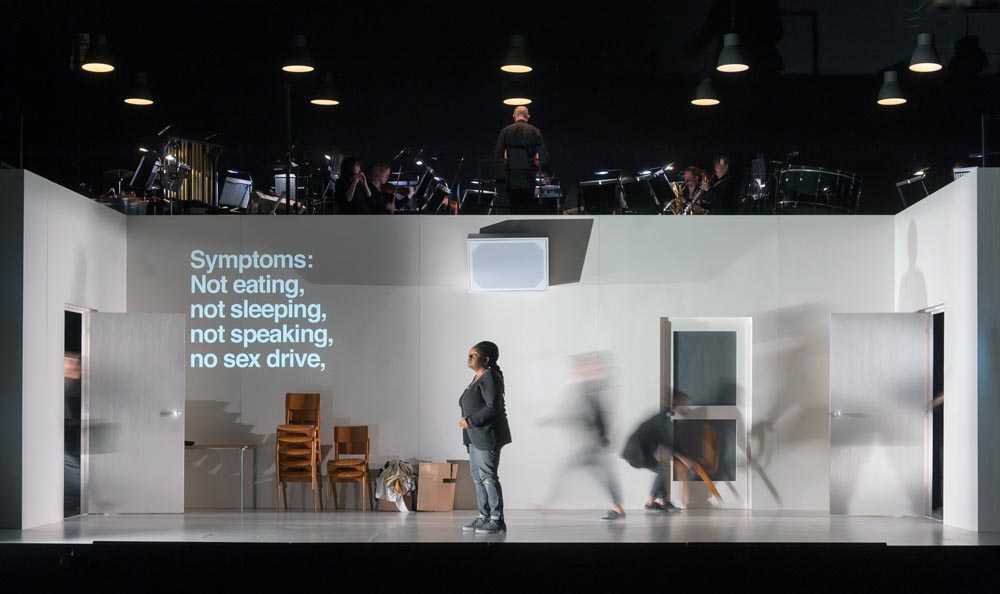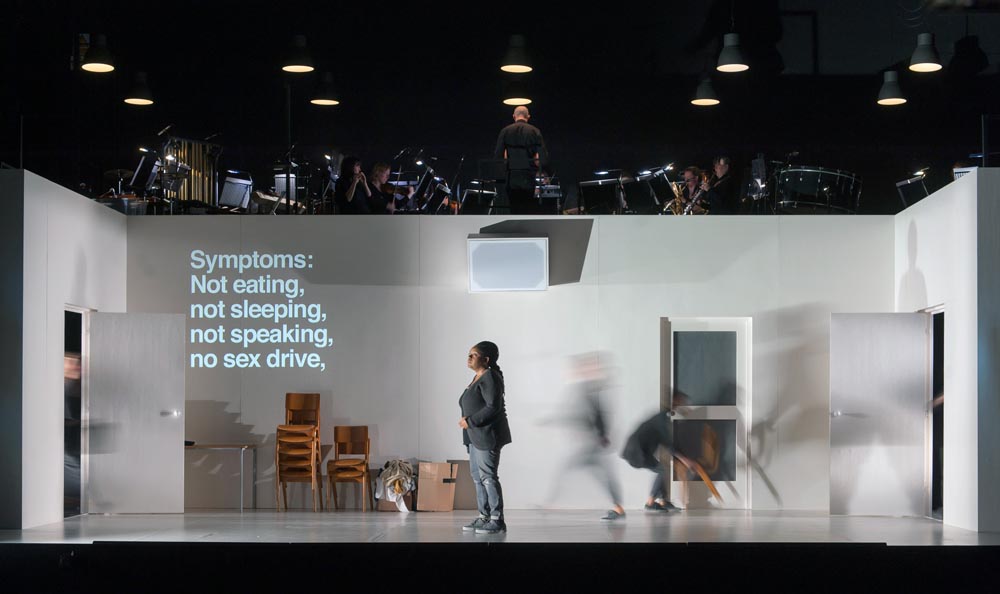 This is an information page about my latest opera, an adaptation of Sarah Kane's 4.48 Psychosis.  It is the first ever permitted adaptation of any of her work.   For more information about the production, please contact me directly.
Click here for production images
Royal Opera House production weblink here.
Background
4.48 Psychosis was the astonishing final work of the radical British playwright Sarah Kane, first performed posthumously in 2000. Detailing the experience of clinical depression, the play harrowingly reveals, through poetry, anger and dark humour, an individual's struggle to come to terms with their own psychosis, the numbers in the title referring to the time in the early morning when clarity and bleak despair strike together.
In Philip Venables' new operatic adaptation of Kane's play, directed by Ted Huffman, the search for love and happiness and the struggle for identity are explored through a fusion of opera with spoken and visual text. Presented at the Lyric Hammersmith, this is a production that promises to bring a new resonance to the last creative utterances of one of the most courageous young British writers of her generation.
Press
For more extensive press coverage, click here.
Independent ★★★★★
Guardian ★★★★
Telegraph ★★★★
Financial Times ★★★★
The Stage ★★★★
The Arts Desk ★★★★
The Upcoming ★★★★
Dimensions
Duration: 90 minutes, no interval, in 24 short scenes.
Text is in english, but foreign-language versions can be prepared (French, German, Italian)
Cast: 3 sopranos, 3 mezzo-sopranos
Ensemble, 12 players: alto flute + picc, 3 saxes (all sop+bar), piano+synth with organ pedalboard, accordion, 2 percussion (solo roles, some playing from memory), vln+vla, 2 vla, bass.
Percussion: two bass drums, two high-strikers, woodsaw & wood, other standard orchestral percussion.
Sound dispersion: All singers and ensemble amplified.  1 stage speaker (central), stereo sound in auditorium, click tracks to ensemble.
Projection, single projector required.
A significant amount of pre-recorded material must be recorded with the cast.
Royal Opera Production
Premiere run: 24th – 28th May 2016
Lyric Theatre Hammersmith, London
co-production between The Royal Opera and the Guildhall School of Music & Drama
Gweneth Ann Rand
Lucy Schaufer
Jennifer Davis
Emily Edmonds
Susanna Hurrell
Clare Presland
Chroma Ensemble
Genevieve Wilkins & Sarah Hatch – percussion
Music Director: Richard Baker
Music: Philip Venables
Text: Sarah Kane
Director: Ted Huffman
Designer: Hannah Clark
Lighting designer: D.M. Wood
Video designer: Pierre Martin
Sound design: Sound Intermedia
Movement director: Sarah Fahie