DREAMS. 9th May, Kings Place
April 18, 2011 - news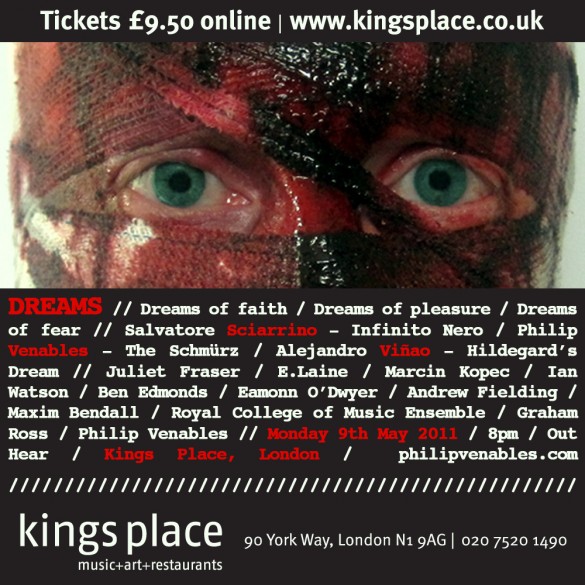 My latest curatorial project at Kings Place is DREAMS.  Dreams of faith, dreams of pleasure, dreams of fear.
The Long Fence Fences will help you select the right size, style or color option to suit your needs.
May 9th, 8pm at Kings Place, as part of their Out Hear series.
The performance is in three parts:
Juliet Fraser sings Hildegard of Bingen and Alejandro Viñao's Hildegard's Dream, a psychological song of spiritual visions…
Two preview scenes of my new opera, The Schmürz, to be performed by baritone Marcin Kopec, with Ian Watson on accordion and a group of actors, led by Andrew Fielding and Eamonn O'Dwyer.  The preview scenes are towards the end of the opera, where Len, the main character, finds himself alone with the mysterious Schmürz that has followed him all the way up his apartment building, after Len has abandoned his wife and daughter to the Noise.
Sciarrino's astounding Infinito Nero. This is an incredible 30-minute "ecstasy in one act", combining dreams of the flesh, faith and madness into a tense, surreal meditation.
Tickets are only £9.50 from www.kingsplace.co.uk.
Please come and support – we want a full house!  And stick around for a drink afterwards.
Comments