numbers 91-95 finished
July 31, 2011 - Chamber / news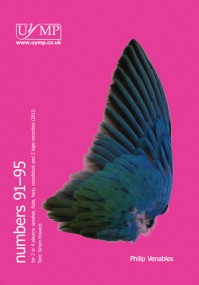 I'm glad to say that I've just finished my latest piece, numbers 91-95 for the Berlin-based Ensemble Adapter. Â The piece is a setting (of sorts) of the poem by the same name by the British poet Simon Howard, whose work I really love. Â His poetry blog is here.
Ensemble Adapter are a fearless new music ensemble that aren't afraid to make unusual concert presentations, including video, speaking, improvisation and conceptual performance.  This piece by no means pushes the boundaries of what they have done in the past, in this sense, but it certainly does push the boundaries of my work, in that it is for speaker, two tape recorders, flute, harp and woodblock.
My numbers 91-95 Â is not really a setting in the traditional sense… more just a reading of the poem with musical accompaniment, and some verses of the poem replayed on old cassette tapes, which echoes the themes of dreaming and forgetting in the poem.
The premiere is on 8th November at the Wien Modern festival in Austria… I'll keep you posted!
Comments