Dutch Courage released on NMC
18 February 2016 - news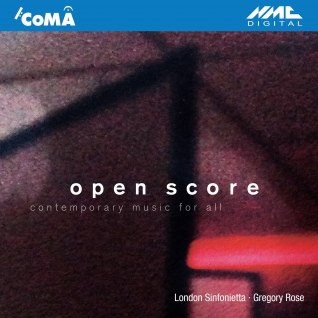 Dutch Courage, my piece for amateur ensemble, has just been released by NMC.  The new disc is called Open Score and it is a collaboration with Contemporary Music for Amateurs (CoMA), for whom I wrote Dutch Courage when I was a student at the Royal Academy of Music in 2004.  The title of the disc refers to the fact that all the pieces are written in 'open score', for a flexible group of players of any type and number.
This recording is actually by the London Sinfonietta, rather than an amateur group, but I'm very happy to say that Dutch Courage has been a bit of a hit with all sorts of amateur groups since I wrote it, and has had dozens of performances over the years.   I'm also very happy that my very good friend Naomi Pinnock is also featured on this disc, along with my former teacher, Philip Cashian.  Great company!
The disc is also available for download, here.  The score is going to be re-published soon in a new volume to accompany the disc.