Illusions, with David Hoyle
Programme Note
I have long been a mega fan of David Hoyle. When I lived in London, I regularly went to see his shows at the Royal Vauxhall Tavern. He's the canary in the mine of our times, sounding the alarm for a deeply unfair and oppressive society in white hot cabaret and performance art. I find his rage incredibly exciting and galvanising.
In 2015 the London Sinfonietta approached twelve composers, including me, to write a short piece for a special programme on the eve of the UK General Election that year. The concert was called Notes to the New Government, and we were supposed to make issues-based pieces directed at the as yet unknown incoming government.
I took this opportunity to ask David to work with me for the first time. He agreed, and we filmed around two hours of his unique brand of stream-of-consciousness rant. From that, I edited snippets of video into a 7-minute piece, Illusions. The message of the piece resonated with the audience, so two years later, in yet another general election year, the New Music Biennial and the London Sinfonietta asked us to extend and reorient the piece. Amid the unchartered post-Brexit landscape of 2017, there were also celebrations for the 50th anniversary of the legalisation of homosexuality in England and Wales — an issue dear to David and me.
We decided to highlight this in our update. We went through the same process, filmed more material, and made a 14-minute piece that is more direct, more sexual, and more aggressive than its 2015 predecessor. I hope you find the anger inspiring.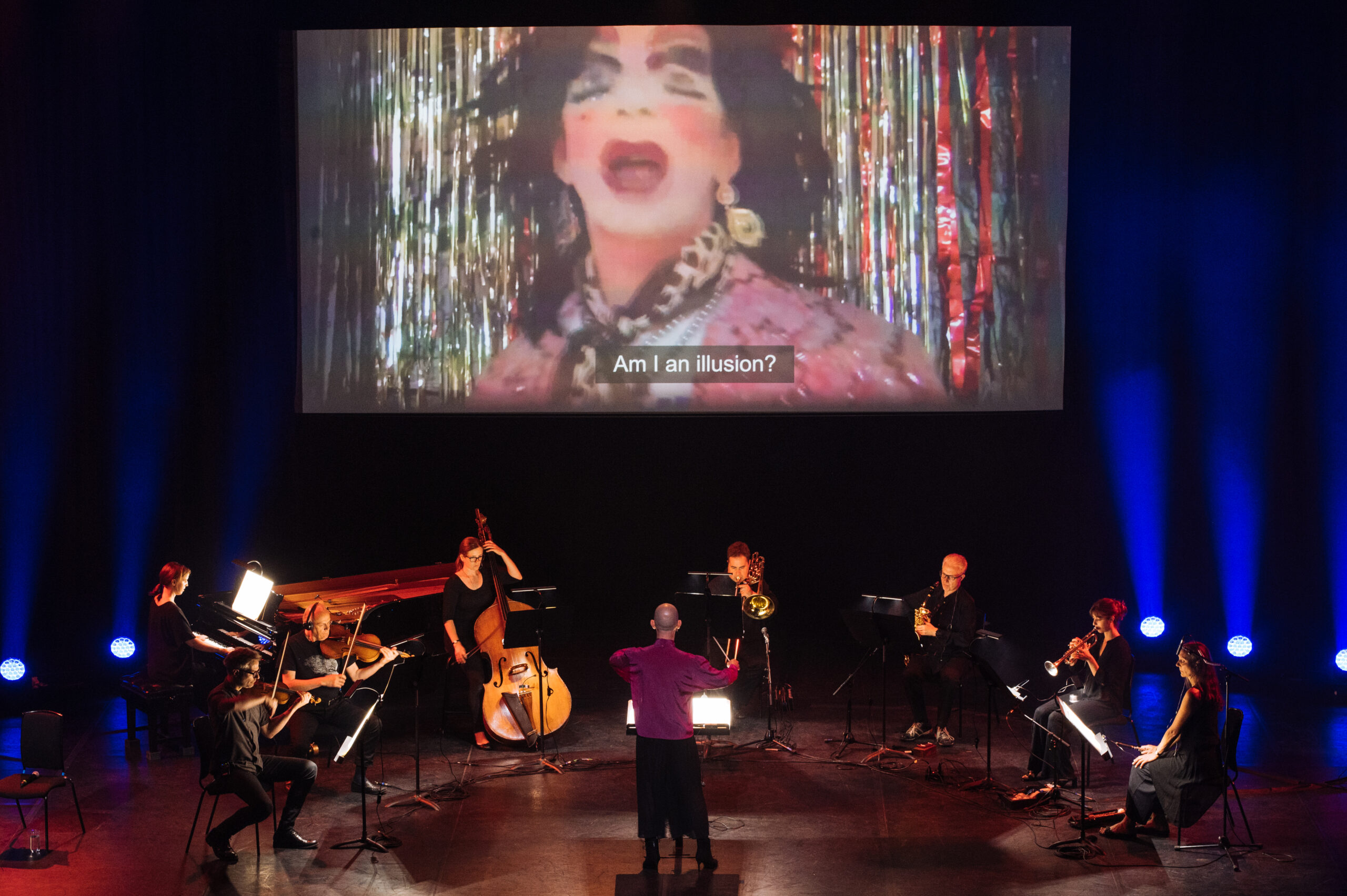 (Philip Venables conducting the London Sinfonietta in Illusions at the Southbank Centre, London. Photo: Garry Jones / New Music Biennial.)
Press
"Philip Venables's Illusions, a collaboration with performance artist David Hoyle, batters at the limits of form, emotion and sexuality in a ferocious assertion of LGBT individualism in the face of establishment nihilism and uncertainty – a brilliant, extreme work that grips like a vice and won't let go." — The Guardian
"Most graphically urgent is Illusions — which performance artist David Hoyle acidly exposes through alternating political rant and twisted seduction. Supported with terrific intelligence by Richard Baker's London Sinfonietta — the muzak, especially, disturbs — this is a remarkable piece, sensationally played." — BBC Music Magazine
"Best of the bunch by far was Illusions, in which aggressively rhythmic music by Philip Venables engaged in a jerky dance with the on-screen diatribes of "anti-drag queen" David Hoyle, aimed directly at us in the hall. "Are you just thinking about how you can hang on to what you've got?", leered Hoyle contemptuously. It was the one moment that put us all on the spot." — The Telegraph
"Closing the disc is Illusions for speaker and ensemble, an unholy screed of lounge muzak and glitch on a cruise ship sailing the Styx. Performance artist David Hoyle rails against hypocrisy and venality in amusing fashion. 'The media shits into your brain', is one of his bons mots. Bathetic and compelling, it's performed with a punch." — Gramophone Magazine
"a proper little zinger" — The Spectator
« Il massacre la bourgeoisie décadente et la masculinité toxique à la tronçonneuse et termine par ce précieux conseil : "la prochaine fois que vous vous masturbez, mettez-vous un doigt dans le cul." Bien noté. » Brain Magazine / (He slaughters the decadent bourgeoisie and toxic masculinity with a chainsaw and ends with the valuable advice, "next time you masturbate, stick a finger up your ass." Duly noted.)
"Equally violent is Philip Venables' Illusions, the concluding page and the climax of the evening: on a screen, the performer David Hoyle challenges the audience. This provocative and angry stream of political words was created for the 50th anniversary of the legalisation of homosexuality in England. Performed by lovemusic, the music is as aggressive and brash as the words, bursting forth like slogans ("Democracy is an illusion")." — DNA Magazine (machine translated from French)
"Illusions, whose 2015 version was entirely revisited and enriched in 2017, in full association with the extraordinary performer David Hoyle, muse of the LGBTQIA+ movement in England, is a luminous work of ardour and bubbling questioning. Hoyle makes a litany of hilarious and violent observations about our sleeping state… The music is direct and confounding. The musicians all together are united, then disunited, in an epic dialogue with Hoyle, present in video. The protocol is given: an infinite and grandiose dialogue in the bowels of the world's origins. When the musical composition produces this, it is extraordinary… And it is extraordinary in every way…" — Les Humanités (machine translated from French)
"A climactic ending, the union of instruments and cries of a video with a scathing and very political speech. It is David Hoyle who appears on the screen, in a burning rage, sounding the alarm against an unjust and oppressive society, on the eve of the British general election." — Toute la Culture (machine translated from French)
Details
Music, concept, video: Philip Venables
Text & Performance: David Hoyle
Duration: 14 minutes
Ensemble: video projection, picc.bsax / tpt.tbn / pf.1perc(BD.whistle.tgl) / vn.va.cb.
Requires click track (either for all players or a conductor)
Illusions is a piece for live ensemble and video projection. It was commissioned by the London Sinfonietta as a "Note to the new government" and performed by them two days after the British General Election in 2015, at the QEH, Southbank Centre on London, 9th May 2015. It is a collaboration with the performance artist David Hoyle
Illusions was extended in 2017 to replace the 2015 version, as part of the New Music Biennial 2017.
The work was released on CD and download in 2018 by NMC Recordings for release as part of the Below The Belt album:
performed by the London Sinfonietta.
conducted by Richard baker
producer for NMC: David Lefeber